Surf and Skate Camp Along the Alabama Gulf Coast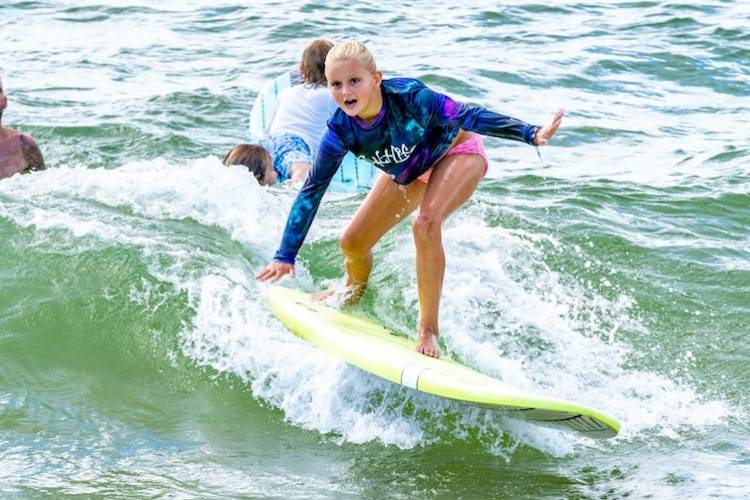 Want something for the kids to do while on vacation that they will remember for years to come?  Bring them over to Tambo's Surf and Skate Shack and sign them up for their surf and/or skate camp. 
This was our first year signing our 9 and 6 year old up for this camp and they had a blast.  For two mornings they met with Tambo and Dusty on the beach in Orange beach and they learned to surf.  One morning was relatively calm which was great for learning the basics and the second day, they had some real surf. 
It was so fun to watch the kids in the water learning how to catch and ride a wave.  Tambo was so good with all of the kids, watching his excitement as the kids surfed was just as awesome as watching the kids. 
After the two days in the water, they were ready for a little time inside with A/C and wheels.  Wednesday and Thursday were spent at Tambo's Surf and Skate Shack where he has his own indoor skate ramp built and ready for skating.  It was a nice break from the sun and as I was a little apprehensive at first thinking about the kids being on a skate board for the first time and falling and possibly breaking a bone, it was nothing of the sorts. 
The instructors made sure that the kids learned the proper way to get on and off a board and taught them how to maintain their balance.  Were there falls? Absolutely, but not nearly as narly as I expected.  By the end of the two days, both kids were begging to be signed up for the next camp.  They really enjoyed both the surfing and the skating and I thought it was a great experience for them both.  Tambo runs these camps all summer.During your stay with Resort Rentals is the perfect time to sign your kids up for surf and/or skate camp. You can choose to do one day or all four, it's entirely up to you.  Call Tambo's today for more information. 
Tambo's Surf and Skate Shack
3800 Gulf Shores Pkwy Suite 130
Gulf Shores, Alabama
(251) 948-7873
Check them out on Facebook Here
Book Vacation Rentals in Gulf Shores & Orange Beach AL
Looking for a beach vacation in Orange Beach or Gulf Shores, AL?  Book through Resort Rentals of the Gulf Coast where Your Vacation is Our Priority! 
Looking to purchase a second home or relocate to the beach?  Call Tucker Shaver.  Tucker was born and raised in Orange Beach, AL and knows the area better than anyone.  He will help you find exactly what you are looking for whether it's an investment property that you would like to rent or the perfect home for your family. Tucker Shaver Real Estate
Phone: 251.609.9292
Email: tuckershaver@gmail.com